† R.I.P. $IND€'$ ₤AW
(Title design from @mtascon's tweets)
On the 2nd December 2009 the manifesto for "the defence of fundamental rights on the Internet" was born. For the first time I saw how Twitter users were organized to protest against the Law of Sustainable Economy, later known as Sinde's Law.
I collected tweets with the hashtag #manifiesto and I published the analysis in March 2010. It had a repercussion in newspapers such as 20 minutes and ABC. I resumed monitoring this protest in January 2010, just the day when Alex de la Iglesia resigned from the Academy until now, when Sinde's Law died.
Note: This dataset is not complete; I only monitored "Ley Sinde" and #leysinde, so I could have lost some tweets with other hashtags. However, I thought it would be interesting to see how this issue has evolved on Twitter despite the dataset is not being complete.
The following chart shows a summary of the last 10 months, and clicking on it you can access the interactive image.
Below there is a summary of the most popular tweets on 12/02/2011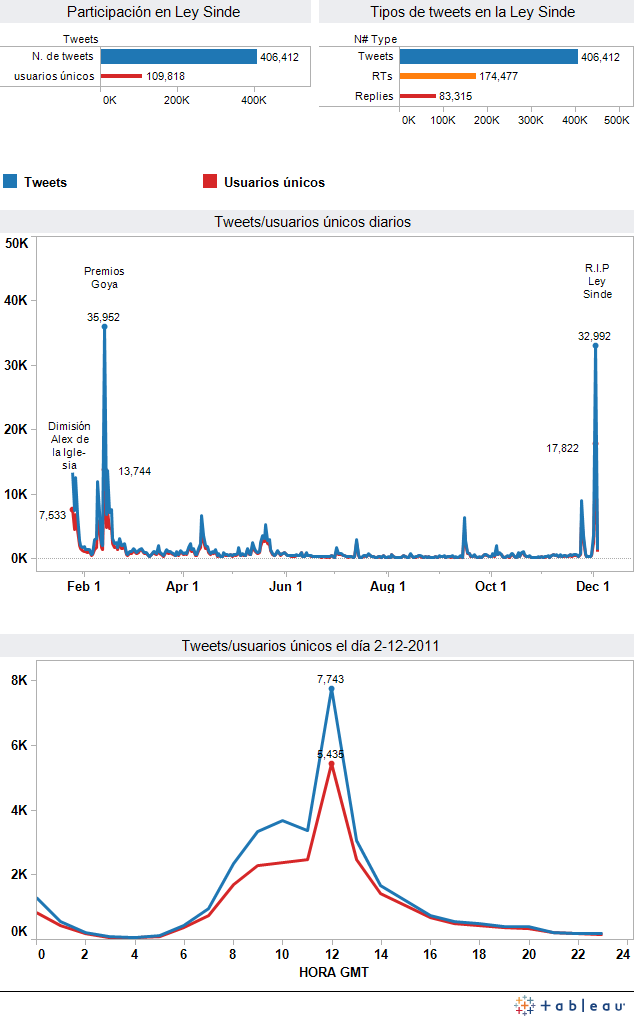 (To see all tweets click on the image)