(reviewed) Twitter habits in Spanish regions
Twitter is becoming more and more a part of people's daily routine, from computers, tablets or smartphones, users follow their TL and publish tweets. Thanks to mobility, location is not a handicap, only to rest or to do priority tasks are an obstacle to using it. Therefore, analyzing the activity of their users we can understand their habits, allowing us to answer questions such as:
What publication patterns are there in Spanish regions?
When do people publish more in the morning or in the evening or at night?
What patterns are there on weekdays?
What regions are early risers and which go to bed late?
Is there a difference between the North and the South or between the mainland and the Islands?
What patterns are there in regions with large cities?
All these questions are answered in the following charts that show the  percentage of tweets posted every hour during the month of July in different regions of Spain:.
The first graph shows differentiated patterns of publication in the working week and at the weekend for each Region in Spain. In this static image Madrid is highlighted but clicking on it you can access the interactive graphic and select other regions or a combination of them to compare different patterns.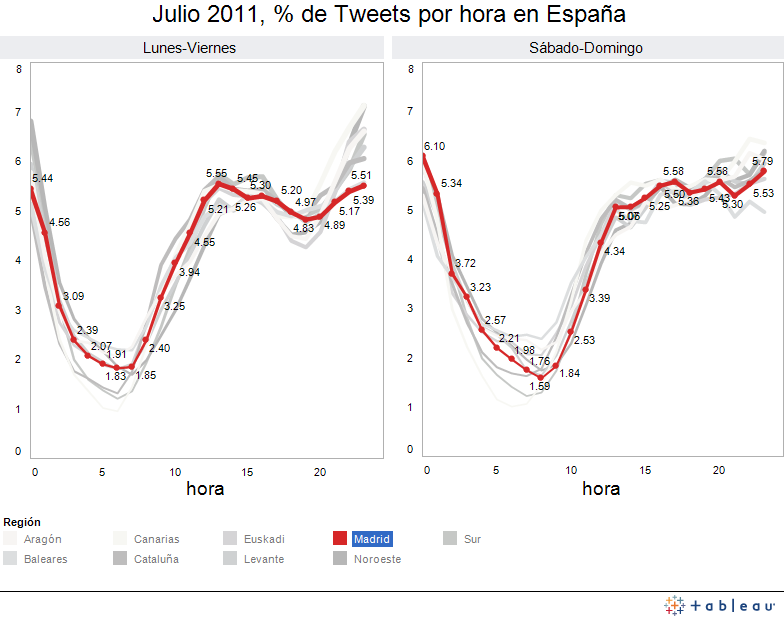 The second image shows the pattern in the Spanish regions for each day of the week. The colour code is: Monday, Tuesday, Wednesday and Thursday are gray, Friday is green, Saturday is blue and Sunday is red. As can be seen the patterns from Monday to Thursday are similar and change on Friday, Saturday and Sunday. Clicking on the picture below you can access an interactive chart where you can select each day of the week or a combination thereof.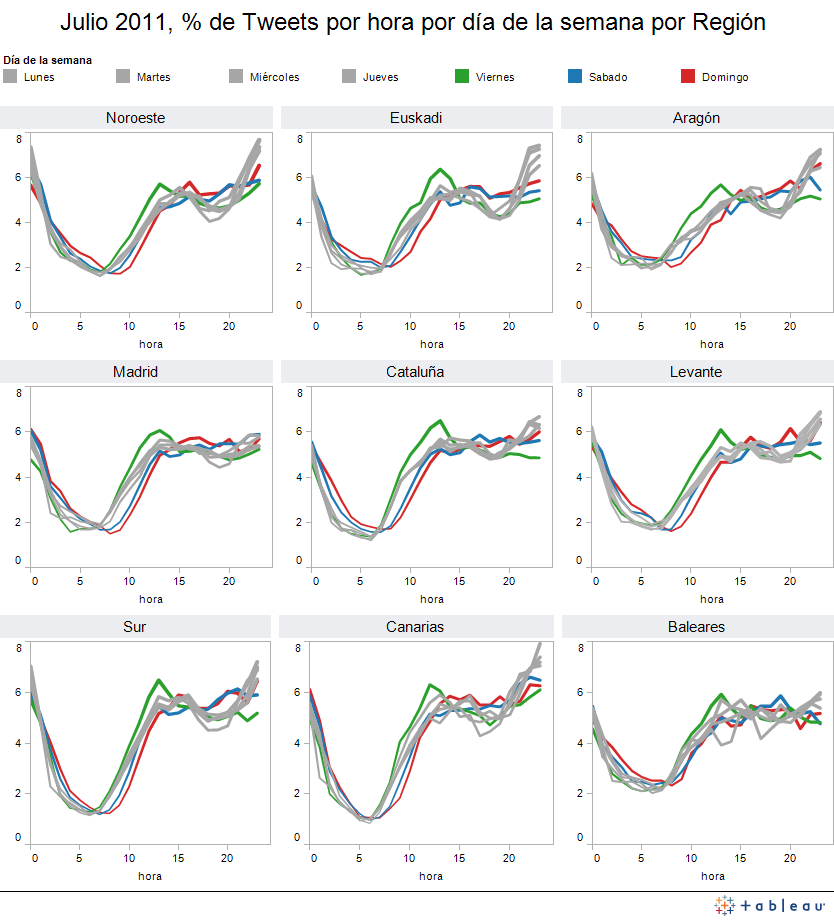 Conclusions
Traffic Pattern:
The sun never sets on Twitter. Whenever users are tweeting all the time, night does not exist in Twitter world.
Twitter has different traffic pattern to phone calls: The peaks on Twitter traffic are at 13:00 and at 23:00 and the lowest activity is at 19:00 (on working days) and at 5:00 a.m., while the highest phone traffic is from 10:00 to 12:00 in the morning and at 20:00 in the evening, being the lowest frequency at mealtimes and at night. Therefore Twitter is more than just a talking channel and people are using it at unusual hours to communicate.
Working days Vs. weekend:  On working days a transition from working to leisure can be seen. The frequency of publication falls from 13:00 to 19:00 and it rises gradually until 23:00 while at the weekends the percentage of tweets from morning to night grows gradually. Moreover, at the weekend people tweet between one and two hours later and tweet less  at night than on  working days. Friday is a transition day; its pattern is like a working day until the evening and it is like a holiday at night.
Morning vs. Nights:  In most regions, except in Madrid, Catalonia and the Balearic Islands, people tweet more at night than in the morning on working days. At the weekend, the frequency of publication in the morning and at night is similar
Comparison between regions:
Early birds vs. Night owls: The earliest riser is Catalonia but is closely followed by Madrid, the Basque Country and the Canary Islands. The biggest revelers are Aragon and the Balearic Islands with a rate of over 2% of tweets from 3:00 am. to 5:00 am. The South and the Canaries Islands are the regions with the lowest percentage in that timeslot.
North vs. South: In the North the transition from work to leisure is more pronounced than in other regions on working days. There are no notable differences between the North and the South, even the publication pattern of the Basque Country is more similar to the South than to the Northwest.
Islands vs. Peninsula: the islands cannot be more different, the Canary Islands are early risers and the Balearic Islands are night owls. The Canary Islands are similar to the South and the Balearic Islands do not seem similar to any other region.
Large cities: Regions with large cities are conditioned to the pattern of metropolis due to the volume of tweets generated.  Madrid and Catalonia showed a similar profile, both are early risers and have less activity at night than other regions