Twitterline 2011
The year 2011 was an important year for users who share experiences, preferences and opinions in this endless river that is Twitter. How many information streaming flows that we were not able to read!? In 2011 I rescued the tweets of the most significant moments of the year before flowing into the sea of forgetfulness and I wanted to make a timeline that sheds light to the attention we gave to different events.
Publications Timeline
Spanish people paid much more attention to football than politics, although it should be noted that the Champions League is an international event.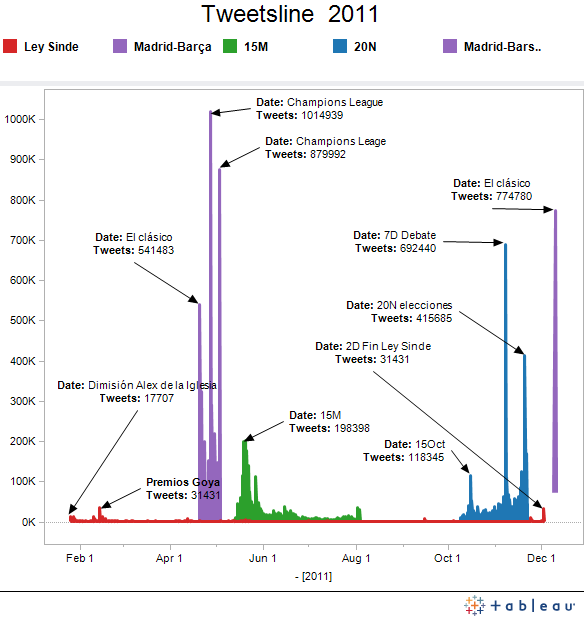 Timeline of users
We have seen several users attention peak for an event: 500,000 for football, 160,000 for politics and 65,000 for mobilization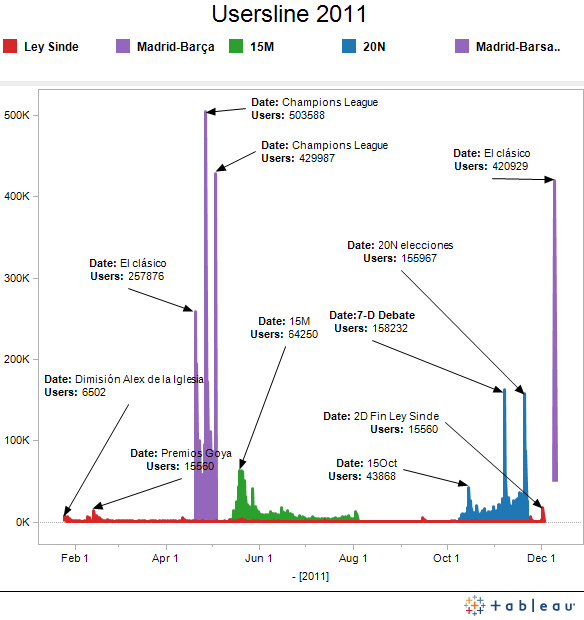 Rescued tweet
I have rescued from oblivion a handful of tweets that were most often mentioned during the events of 2011

No accesible en Twitter, recogido en Favstarr's
Pásalo. Publícalo: Un Gobierno en funciones no puede aprobar hoy la 'Ley Sinde'.bit.ly/uI892R — Luis Alfonso Gámez (@lagamez) December 2, 2011
Zapatero a Sinde: "Mierda Ángeles. Con lo tranquilos que los teníamos descargándose cosas" #acampadasol — Lucía Taboada (@TaboadaLucia) May 18, 2011
Tantos años reprochando a los jóvenes su 'pasotismo' y cuando reaccionan también se les reprocha. Un poco de coherencia..#15m #acamapadasol — Jesús Maraña (@jesusmarana) May 18, 2011
Hace 5meses empezamos a soñar. Hoy despertamos y vemos que el sueño es global. Casi 1000 ciudades. ¡No te quedes en casa! #live15O #vive15O — Democracia real YA! (@democraciareal) October 15, 2011
7-N Debate Rubalcaba-Rajoy
Rajoy ha mirado 585 veces sus papeles frente a las 48 de Rubalcaba #Rubalcabavenceyconvence — _Rubalcaba_ (@_Rubalcaba_) November 7, 2011
Qué mala suerte hemos tenido. 8 años en el Gobierno y se le ocurren ahora todas las ideas. — Mariano Rajoy Brey (@marianorajoy) November 7, 2011
Debate muy edificante. Rajoy fomentando la lectura, Rubalcaba la logopedia. — Risto Mejide (@ristomejide) November 7, 2011
Espero que Rajoy no recorte en twitter, que como nos dejen con 130 caracteres no respondo de mis actos. — Alberto Romero (@AlberZeal) November 20, 2011
Lanzamos el hashtag #1persona1voto. Si se convierte en TT. Habrá movilización! #ordago15M — Democracia real YA! (@democraciareal) November 21, 2011
Madrid-Barça (último clásico)
Mou y yo tenemos sólo una cosa en común: a los dos nos gustaría ser tan grandes como Guardiola. #HalaMadrid uy no, espera, #forçaBarça — Risto Mejide (@ristomejide) December 10, 2011