ALICE12 Congress
Last Friday July 6, I attended the First International Congress on political communication and campaign strategies organized by ALICE association. I participated in a panel about "Social network analysis in election campaign" arranged by Montse Fernandez Crespo (aka @montsefc). Montse knows the most recent research on election campaign 2.0 focused on quantitative and qualitative analysis. She chose a group of speakers from several areas such as the Social Sciences, Communication Sciences, Engineering, Network Science and Data Mining . She gathered us to @PFCdgayo, @estebanmoro, @p_barbera, @jsalvachua, @maguduarte, @elaragon and @congosto to show a broad view about the subject.
Pablo Aragon (aka @elaragon) from Fundació Barcelona Media and I presented an analysis of Spanish General Elections (I'm sorry only in Spanish version). You can see a summary in the following ppt.
I always thought that sharing is much more productive than competing and this article is the result of collaboration between two research centers that share datasets and ideas, something still uncommon in Twitter research. I hope to encourage other research groups to do the same.
All the papers were wonderful but the one titled "One tweet, one vote?" by @p_barbera–@griverorz (creators of http://www.tuitometro.es) gave me a pleasant surprise. We got similar results by different way, which somehow validates both studies.
The next day I attended the panel 24 where Luis Rodriguez Vives (aka @elchiconaranja) participated. I shared dataset with him and he presented in a qualitative approach the results of the 2012 Andalusian Election. In the same panel I exchanged some ideas about the strange case of Cayo Lara's new followers (IU leader) and I have rescued from oblivion this graph that shows how little he tweeted and how many followers he got.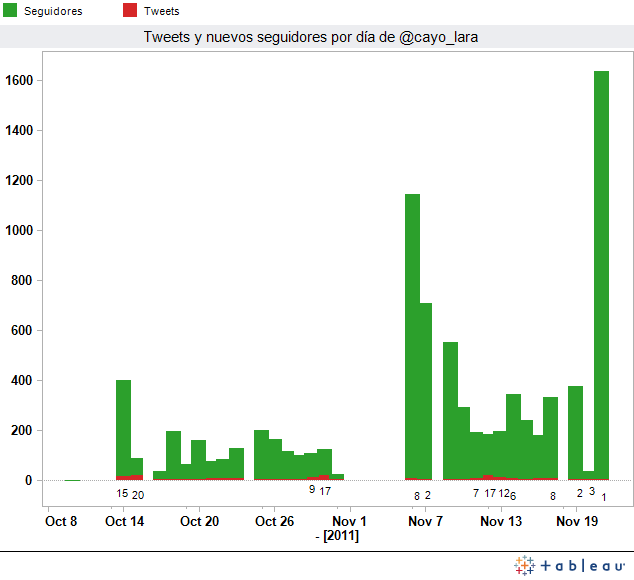 I still have in the pipeline more Election Campaign to analyze this summer and I hope to publish them.